Date: 10-11 June2019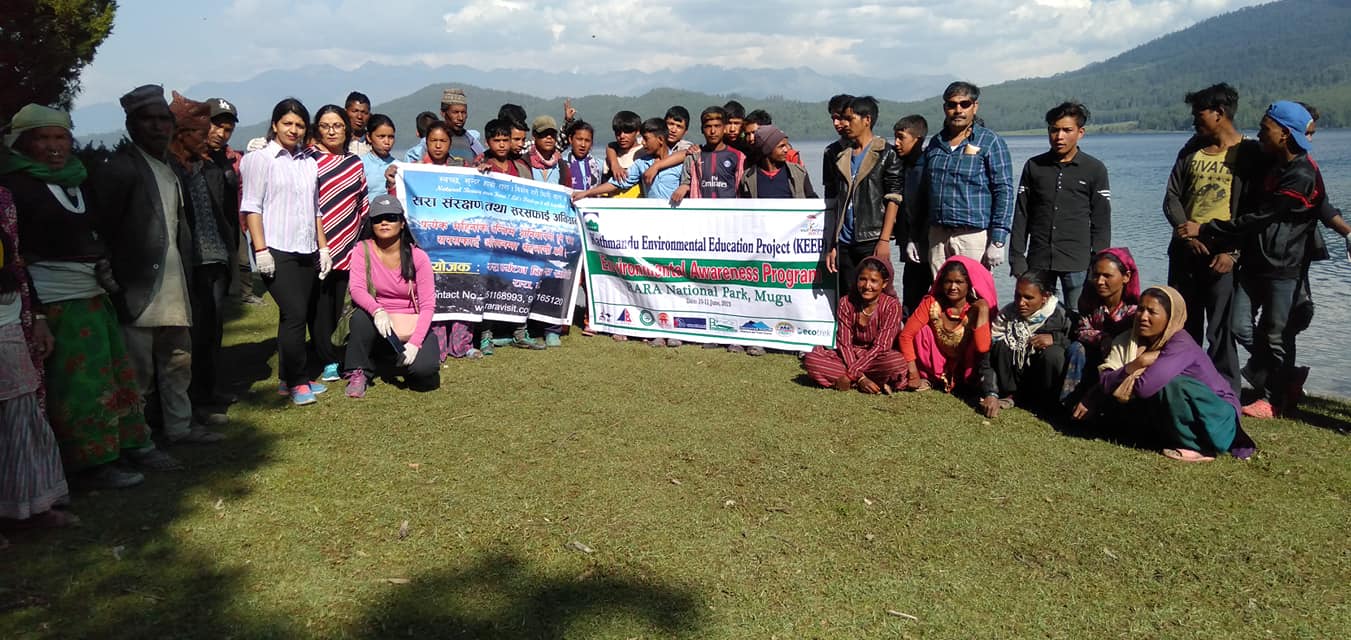 Kathmandu Environmental Education Project (KEEP)was established in 1992 A.D. with an aim to promote sustainable tourism along with environmental conservation. Since its establishment, KEEP has been conducting several activities including trekking trail and public sites clean up, eco-hike, plantation, and awareness workshop fortourism professionals such as porters, guides, hotel and lodge entrepreneurs, homestays, and local people.In addition, it conducts environmental awareness program annually,during June,onthe occasion of World Environment Day indifferent regions of the country. To date, KEEP has delivered initiatives in Taplejung, Jiri, Shabrubesi, Besisahar, Dunai, and now in Rara.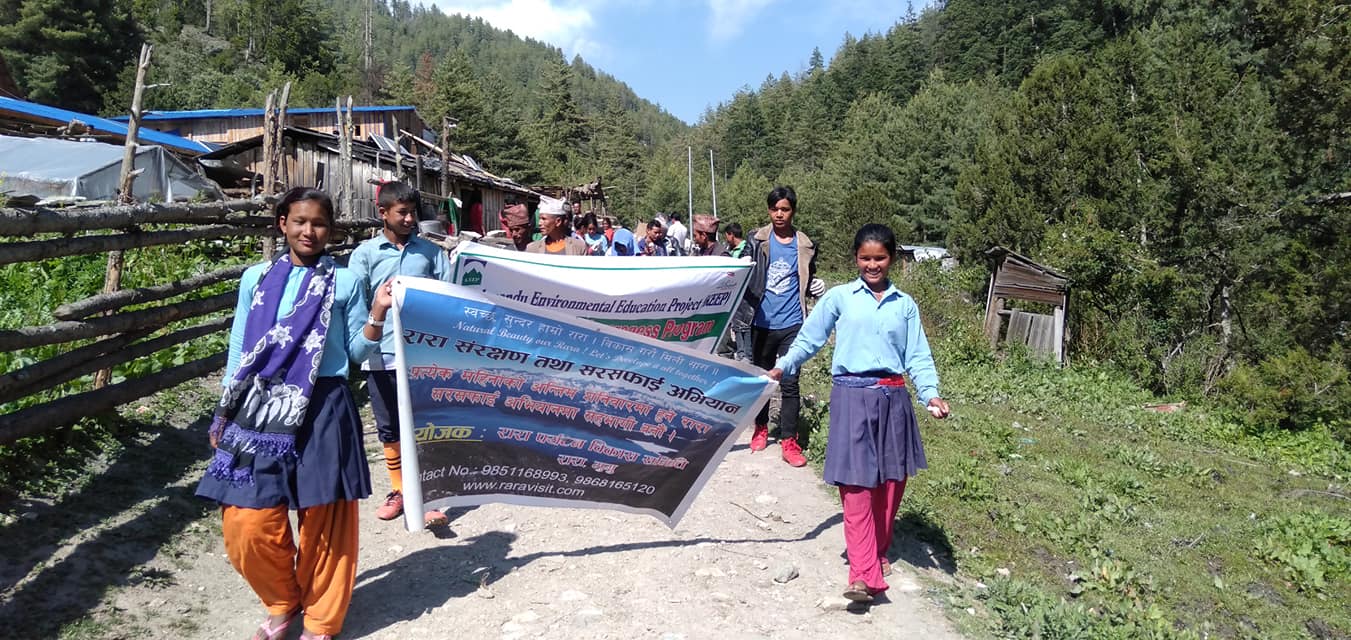 Following the success in previous years, KEEP has successfully conducted environmental awareness campaign on 10-11 June, 2019 in Mugu district of Karnali Province.It was jointly supported, technically and financially, byNepal Tourism Board, Nepal Mountaineering Association, Eco-Trek, All-Nepal adventure, Manakamana Cable Car, Sherpa Society Pvt. Ltd., Himalayan Glacier, Rara Adventure (P) Ltd., Rara Tourism Development Committee, Off the Wall Trekking-Nepal, and KIWFF-Nepal. The program was conducted in ChhayanathRara municipality, ward no.7 at   Rara Lake site. Chuchemara hill at 4087 m height is the best vantage point to wonder the magnificent views of deep blue lake,the forested hillside and snow-capped peaks around it.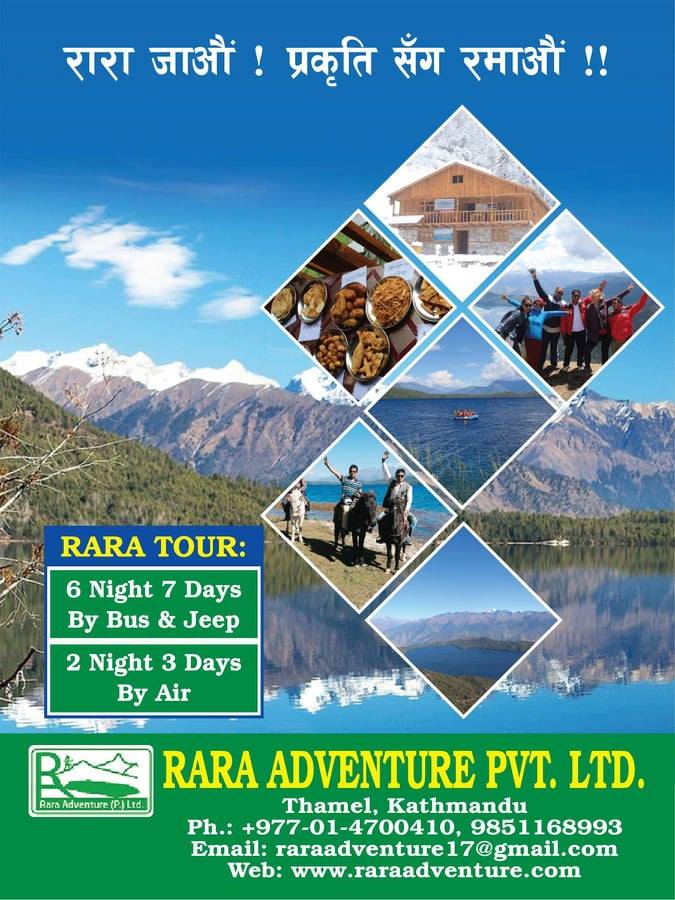 About Rara Lake and its Vicinity:
Titled as the heaven on the earth, Raralake is the greatest pristine lake of Nepal. It lies in the far North-Western part of Nepal. The green hills on all sides, Junipers forest and sparkling water has indeed highlighted the beauty of Raralake.The alpine coniferous forest of Rara National Park enriched with the region's representative samples of more than 500 species of flowers, 20 species of mammals and 214 species of birds has delighted the charm of Rara vicinity.Chuchemara hill at 4087 m height is the best vantage point to wonder the magnificent views of deep blue lake, the forested hillside and snow-capped peaks around it.Moreover, the amicable community of people around it and the warm hospitality of hotels and homestays entrepreneurs lures the once visited people to go there more often.
About Program
Cleaning campaign were carried outaroundthe vicinity of lake andtraining classes were organized to aware the local people, students, guides, porters, and business entrepreneurs about the value of a litter free environment, as they are the ones who can transfer knowledge to the tourists visiting the area.
The campaign adopted different proactive means like interaction and presentations, group work, discussion, video presentation, and practical demonstration, which was led by Mr. Ian Wall from KEEP as a principal instructor. The total of 73 participants including students, porters, homestays and lodges entrepreneurs actively attended the campaign.Hoarding boards containing the slogans and information about environmental conservation, plantation, waste management and conservation of Raralakewere installed on the roadside.Views regarding the municipality strategy on Environment and Rara conservation were expressed by the chief guest and guest of honors Mr. Singha Bahadur Budha (Municipal board member) and Kshem Kala B.K. (female member, municipality board) respectively. Similarly,former chairman of Rara National Park and Buffer Zone Conservation Centre and advisor of Rara Conservation Development Society had also kept their views on the very program.
In addition,to widen the scope of the campaign, documentary/movies related to the Nepali culture, mountain life and people's experiences were shown to the local people during evening. In return, locals of Mugu performed their cultural and traditional Deuda Dance and folk songs as a part of acknowledgment to the organizer. The campaign had influential effect on local people as it was highly appreciated and demanded by them to be continued in future days.
Beside all these facts, there is an emergent need to continue such awareness and informative programs to local people on "Environment and Rara Conservation" in upcoming days too.Conservation efforts should be further enhanced so that the future generation can be gifted this precious nature's gift in its pristine form.